WordPress is a free and open-source content management system (CMS) that allows users to create and manage websites. It was first released in 2003, and has since become one of the most popular website building platforms in the world. WordPress is known for its ease of use, flexibility, and large user community.
Why Choose WordPress to Build a Website?
Easy to use: Even for beginners, WordPress is simple to use. You may build and manage your website without any coding or technical knowledge.
Customizable: WordPress has a large selection of customizable plugins and themes that let you build a one-of-a-kind website specifically for your needs.
SEO-friendly: WordPress is SEO-optimized, which means that it can help your website rank better in search engine results, resulting in more traffic and visibility.
Scalable: WordPress is scalable, so your website may expand as your business does. You can add more pages, features, and functionality without affecting the website's performance.
Community support: WordPress has a large and supportive community of developers, designers, and users who share tips, resources, and support to help you build and maintain your website.
Overall, WordPress is a powerful and flexible platform that can help you build a professional and functional website with ease.
Here is a summary of all the steps need to be taken to make a WordPress website from start to finish.
Finding a domain name for your website.
Finding the best hosting provider for your website.
Installing WordPress on your hosting account.
Choosing a WordPress theme for your website.
Creating pages and posts for your website.
Customizing your website's design and layout to match your branding.
Let's get started in building your first ever WordPress website.
Finding a Domain Name for Your Website
Your domain name is your website's address on the internet. It should be memorable, easy to spell, and relevant to your website's content or purpose. You can use a domain name registrar like Namecheap or GoDaddy to search for available domain names and register them.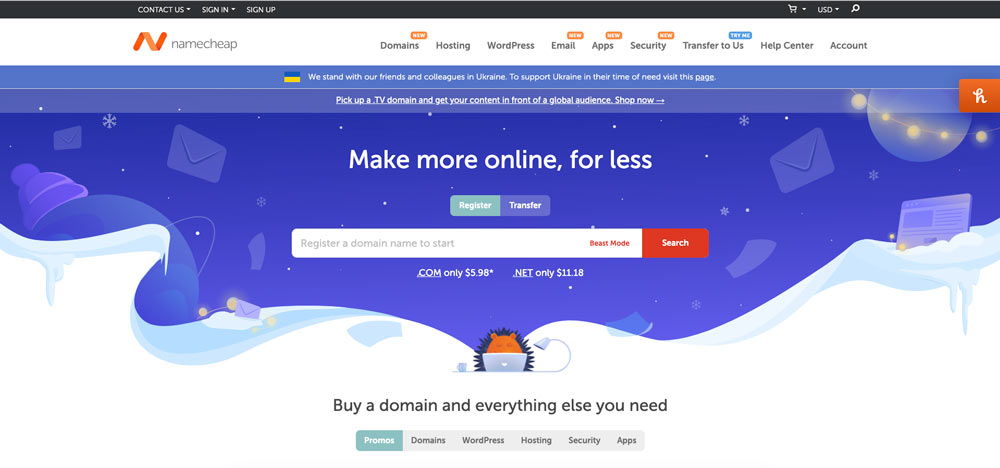 Finding the Best Hosting Provider for Your Website
Your hosting provider is where your website's files and data are stored and accessed. Look for a hosting provider that offers reliable and secure hosting, fast loading times, good customer support, and scalability. Some popular hosting providers include Namecheap, GoDaddy, and Bluehost.
Personally, I use Namecheap for all of my websites and my clients' websites. Namecheap offers the best prices, great support, and fast loading time. All of these criteria are important if you want to make a fast, reliable, and secure website.
Installing WordPress on Your Hosting Account
Go to your hosting provider's website and log in to your account.
Look for the control panel, often called cPanel, and access it.
Note: on Namecheap, go to Hosting List in the left hand-side. Click on GO TO CPANEL located on the right-hand side on your domain.

In the search bar, on top of the page, search and find for the Softaculous Apps Installer and click on it.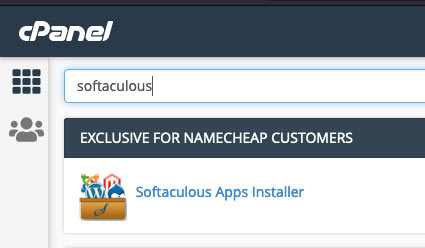 Find WordPress in the list of available applications and click on Install and follow the wizard.

Enter the required details, such as the domain name, directory, admin username, password, and email address.
Once the installation is finished, log in to WordPress by visiting your admin dashboard. "yourdomain.com/wp-admin. Log in with your admin username and password to access your WordPress dashboard.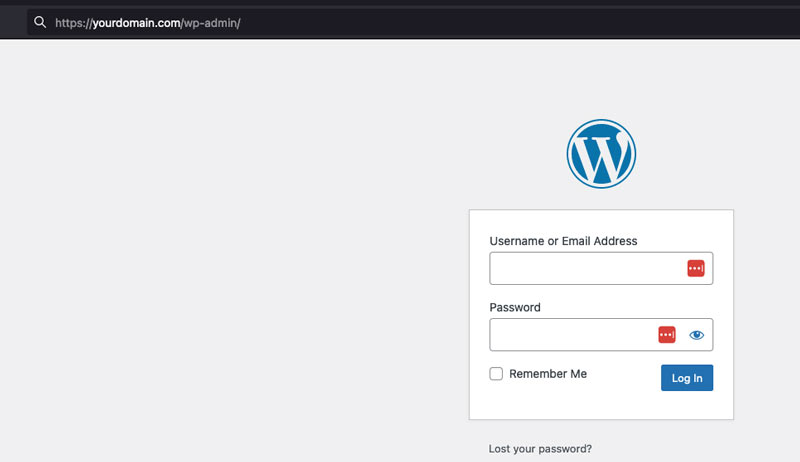 That's it! You have successfully installed WordPress on your hosting account and can start building your website.
Choosing a WordPress Theme for Your Website
Choosing the right WordPress theme is an important step in building a website that fits your purpose. Think about your target audience and what they might expect from your website. A theme that appeals to your audience and fits their needs can help improve engagement and conversions.
Choose a theme with features that are relevant to your website's purpose. For example, if you're building an e-commerce website, look for a theme with built-in support for online stores and payment gateways.
Choose a theme that is regularly updated and well-supported by the theme developer or community. This ensures that your theme stays up to date with the latest WordPress updates and that any issues can be addressed in a timely manner.
Your theme can affect your website's search engine optimization (SEO). Look for a theme that is SEO-friendly and optimized for performance, such as fast loading times.
Make sure to test your chosen theme on different devices, such as desktop, tablet, and mobile. A responsive and mobile-friendly theme will ensure that your website looks great and is easy to use across all devices.
To install a theme, simply go to Appearance > Themes > click on Add New button. In the search bar, search for any theme which you want to install on your WordPress website.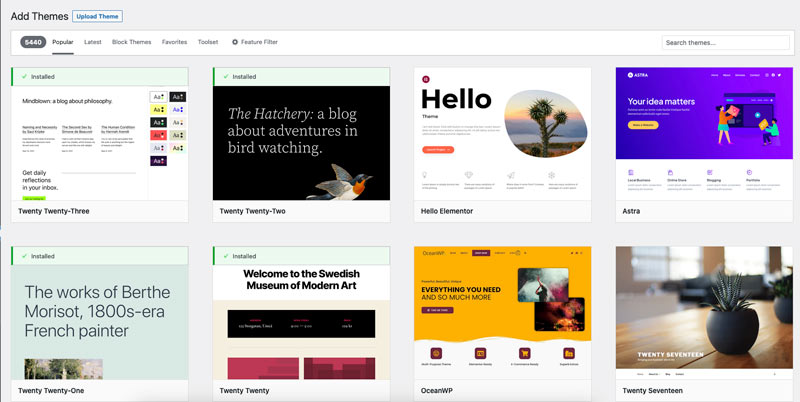 Hint: to get started, search for Astra Theme in the search bar. Astra is a free theme in WordPress repository. Astra is a multipurpose theme which can be used for blog, woo-commerce, and portfolio websites.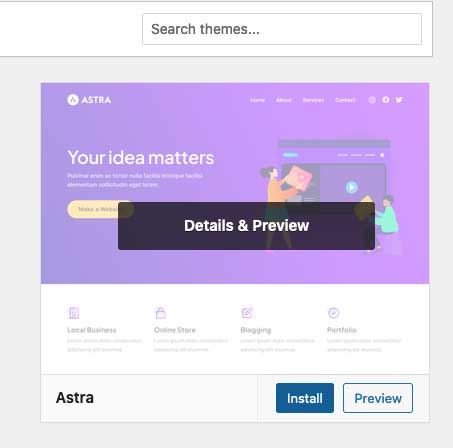 After you found a perfect theme for your website, click on install then wait for the installation to be finished. Once the installation is finished, click on Activate to apply the theme's layout and design on your website.
Creating Pages and Posts for Your Website
Creating pages and posts in WordPress is a straightforward process. Follow this guide and you will know exactly what to do.
To create a new page, go to Pages in the left-hand side menu and click Add New. Enter a title for your page and add your content in the editor. When you're finished, click Publish in the top right-hand side to make your page live.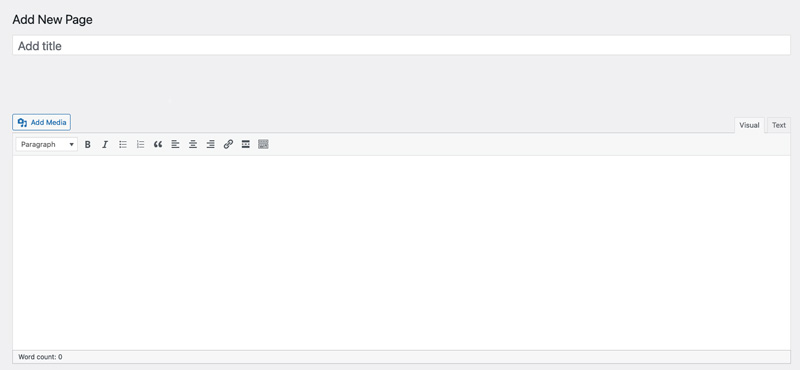 These pages can be a main page for your home, a contact page, or a landing page.
To create a new blog post or any other posts, go to Posts in the left-hand side menu and click Add New. Add a title and content in the editor, and include any images or media using the Add Media button. You can also select categories and tags to help organize your content. When you're ready, click Publish to make your post live.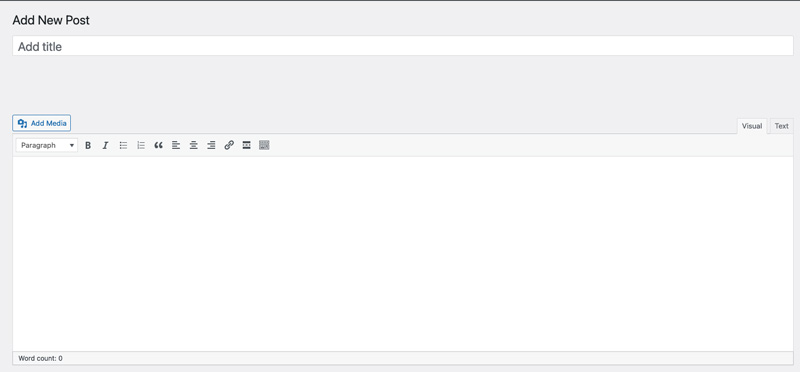 To edit or delete pages or posts, go to Pages or Posts in the left-hand side menu and select the page or post you want to edit or delete. Make your changes and click Update to save your changes. To delete a page or post, click Move to Trash, and your pages or posts are deleted.
Customizing Your Website's Design and Layout to Match Your Branding
Most WordPress themes come with customization options that allow you to change the design and layout of your website. To access these options, go to Appearance in the left-hand side menu and click Customize. From there, you can change the colors, fonts, logo, background, and other elements of your website.
You can always install plugins to add more customization options to your theme's layout and design.
However, if you have coding experience, you can add custom CSS to modify your theme's layout and design. To add custom CSS, go to Appearance in the left-hand side menu and click Customize. From there, click Additional CSS and enter your custom code.
Conclusion
To summarize, using WordPress as a CMS for your next website is a great idea since it is a free tool and can be customized in many ways. By taking advantage from WordPress repository, you will have access to thousands of free themes and plugins which can take your website to the next level. Since WordPress is a no-coding CMS, you can build a nice website without having any prior coding experience. Of course, if you have coding experience, you can always level-up your website by adding some custom codes and functionality which you theme may not have.